Looking for the best exposed aggregate, liquid limestone and decorative concrete in Perth?
What's the Difference Between Exposed Polished Aggregate and Honed Aggregate?
Although both types of decorative concrete begin as exposed aggregate, there are a few differences between exposed polished aggregate and honed aggregate. The most noticeable difference between the two types of exposed aggregate is in the finishes. The finish of honed aggregate is a smooth satin finish, while the finish of the polished aggregate has a glossy and lustrous look.
The method our installation team uses to finish the surface dictates the shine of the product. The polished aggregate receives up to six series of buffing as opposed to the lighter smoothing that creates the honed aggregate. As with honed aggregate, an polished aggregate finish can be used to update your present aggregate surfaces. It requires less time, so you will save money and be able to enjoy your beautiful flooring without a long waiting period.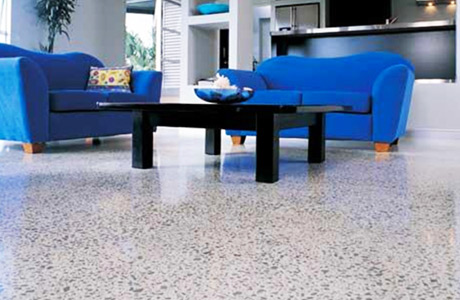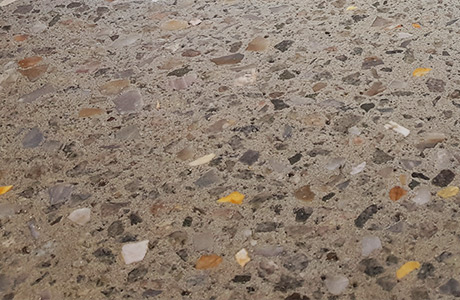 Not Suitable for All Floors
While the finish of polished aggregate is both beautiful and durable, there are a few areas where this finish is not a good option for a decorative concrete floor. These include:
Show rooms and shop fit outs – In showrooms, bathrooms and around pools/spas, the refined polishing creates a slippery finish which could lead to falls
High traffic areas – While the surface of polished aggregate is durable, it is more susceptible to visible scratching and signs of wear than honed aggregate
Pet areas – Constant scratching of the polished aggregate surface by your pet's toenails may eventually become visible. Additionally, the increased slipperiness of the finish could cause injury to your pet if its paws are wet
Advantages:
Environmentally friendly
Resistant to allergens
Durable
Moisture resistant
Easy care
Disadvantages:
Eventually, may show scratches and other signs of wear
Somewhat slippery
Costly to repair