Looking for the best polished, aggregate or decorative concrete in Perth?
How Does the Overlay System Work?
The polished concrete overlay system (similar to Pangaea) is a real game changer in the decorative concrete world.
Prior to the creation of the overlay system, if a customer wanted the look of finely polished concrete, yet had a different type of original flooring, a 10-20mm concrete screed was installed and then polished. The weight and thickness of the concrete screed often made installation unsafe or impossible.
This new polished concrete overlay system uses a much lighter veneer that is typically only 10mm to 15mm thick, so it does not obstruct doors opening and closing. This allows consumers the ability to enjoy the look of beautiful polished concrete virtually anywhere in their home or business.
How Do We Apply It?
Our polished concrete overlay flooring system is a cement based compound enhanced with polymers. Our certified installation specialists mix the Pangaea-type compound in small batches at the installation site and apply it (with hand trowels) to an existing sound substrate.
The surface must cure three hours before it is safe for walking. It takes between eight and 24 hours of curing time before we can grind and polish your new surface to whatever level of shine you like.
We offer a large variety of colours so you can choose the shade that best enhances the surroundings. The material is made of over 50% natural stone, so it is kind to the environment.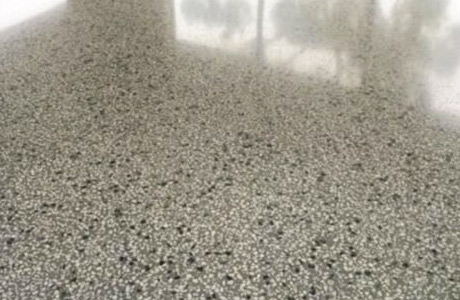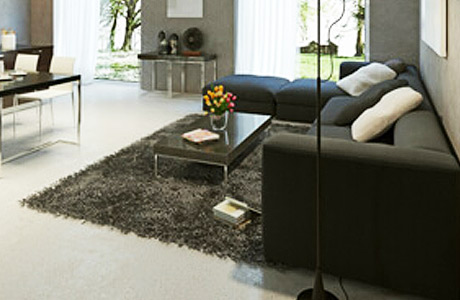 10 Year Warranty
Our overlay system is similar to Pangaea flooring. Pangaea offers a 10-year warranty on defective products, and we do too.
There are different styles and finishes to compliment your surrounding décor. We strongly recommend installing polished concrete overlay flooring on indoor surfaces. We have installed this overlay flooring system in homes, offices, churches, and shopping centres.
If you would like to use this type of flooring outdoors, we recommend installing it only under protected or partially enclosed areas such as a carport or a covered patio.
Advantages of The Polished Overlay System
Low maintenance surface which cleans easily
Seamless design
Durable finish withstands heavy traffic and is suitable for commercial settings
Allergen reduction because it does not hold dust mites or moulds
Moisture proof and is not prone to damage caused by moulds, dust, or mildew
Comes pretreated with antibacterial agents
Reduced heating costs because the flooring gathers heat from the air and then uses it to help heat the room
Disadvantages of The Polished Overlay System
Should not be directly exposed to weather elements; especially extreme temperatures and ponding water
Has the potential to crack if exposed to extreme wear or excessive vibrations
The surface will not resist acidic spills