Looking for the best exposed aggregate, liquid limestone and decorative concrete in Perth?
Give Your Home or Business a Smooth, Professional Look
Honed aggregate is technically another type of exposed aggregate with some distinctive differences. The same materials used to make exposed aggregate make honed aggregate. Since the materials are the same, if you opt for this type of surface, you will have the same variety of stones and vast numbers of colour choices as you would have with exposed aggregate.
The detail that sets honed aggregate apart from exposed aggregate is the fact that honed aggregate is ground down, giving the material a much smoother finish than exposed aggregate. This smooth finish tends to add a modern flair to the areas where it is used and makes your surfaces "ouch-less", a great feature if you have children running around your home.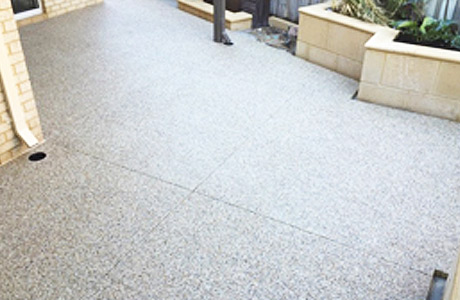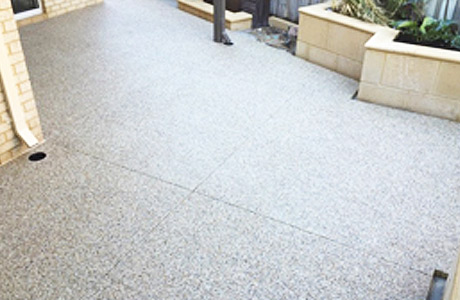 Where is Honed Aggregate Suitable?
Honed aggregate is a viable choice for many of the same places that exposed aggregate works. These include:
Alfresco areas
Patios
Walkways
Surrounding pools
Surrounding spas
High traffic areas
Indoor areas like foyers, bathrooms, or kitchens
Kitchen counters
Carports
Driveways (though a structurally sound choice, many of our customers believe the smoother finish of honed aggregate is not desirable for driveways)
COLORED CONCRETE
Another detail about honed concrete is that we are often able to hone your existing exposed aggregate. Honing exposed aggregate already in place is a great way for you to save money, while updating the look of your home or business.
Some reasons you may choose to have our team of professionals hone your current exposed aggregate:
Refreshes your present concrete surfaces
Often removes stains which may have developed over time
Turns old lackluster exposed aggregate into a refined feature
Cost effective
Time-saving method that requires no concrete pouring
Eliminates the need to remove and dispose of the old concrete
The benefits of honed aggregate far outweigh the negative aspects of this type of decorative concrete.
Pros:
Surface is scratch resistant
Very low maintenance and highly durable
Easy to clean with just a broom and a garden hose
Moisture resistant
Comfortable and slip resistant
Cons:
Repairs are costly
Initial investment may be high